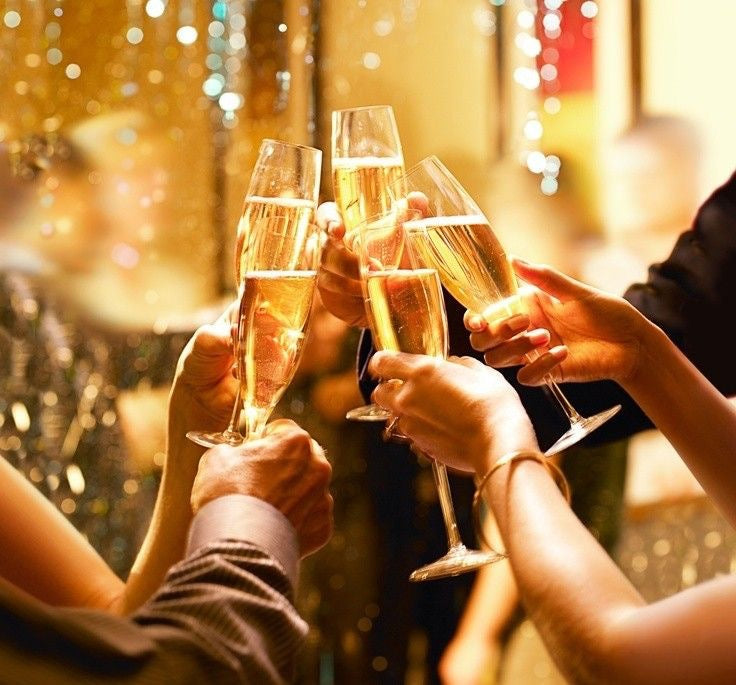 The Ultimate Networking Guide
It's that time of year when an endless number of networking events and company holiday parties descend upon us all. They can be incredible opportunities to connect with other professionals and expand your network, but only if you come ready to slay at these events. If you're looking to get the word out about your business, looking for a new job or just looking to meet new people in your industry, these opportunities are ones you definitely want to capitalize on.
But many of us simply, we'll say it, dread these types of get-togethers. Networking can conjure up words like awkward, unnatural and at times even intimidating, especially when you're walking up to a complete stranger to strike up a conversation. But don't worry, we've got your back and are here to help guide you through the process so that networking becomes less groan-worthy and ultimately an extremely beneficial experience.
To overcome any negativity you may be feeling, flip the script and think about some of your best friends, your personal inner circle, and that in reality you're just adding to that group. There is so much to gain that you can't look at networking as being fake, cold or even staged. It's an ongoing, organic process of meeting new friends and bonding with other like-minded people. It's not just about collecting as many business cards as possible, but actually making meaningful connections that can help you and your business grow in so many different ways. 
We chatted with our own boss-babe and founder Kris Strouthopoulos to get her thoughts on how to make networking work for you. Her #1 tip - remember to have fun! "Even if you don't feel like the life of the party try to get out of your comfort zone and really enjoy yourself. People are naturally drawn to those who are engaging and look like they're having a good time. So even if that's not how you feel on the inside, the old fake it til you make it adage isn't bad advice when it comes to networking. And keep in mind it will get easier with practice!"
Besides your typical networking events, if you're wondering where else to go to make meaningful business connections, we're breaking it down for you. Get creative, don't count out public transportation, or even a friend's wedding. And places like restaurants or hotel bars can really be some of the best locations. Typically many business people are traveling alone and it sets up the perfect one on one time to connect with top talent and leaders. Overall any situation that that involves meeting and interacting with other people is an opportunity to expand your network. 
So now that you know where to go to network, we've put together our top tips on how to get it done once you're there:
Don't focus on any fears you may be experiencing right before you go into an event. Instead give yourself a quick positive pep talk as a confidence booster. And remember to focus on the reason you are there, the joy of meeting new people, forming new connections and ultimately building relationships that will elevate your business and yourself.
Have a few conversation starters ready to use: compliment them on what they are wearing, talk about how beautiful/sunny/cold, ect the weather was that day, or comment on the food at the event. People will always bond over food! And don't be afraid to use the classic - "Hi, I'm _____." Add in a confident handshake for good measure. 
Keep the conversation flowing by inquiring about passions, hobbies and interests instead of just going with the typical "where do you work?".
Listen more then you talk, the most interesting people to talk to are the ones that really want to know about us. And be present, always focus on the person in front of you.

When you first meet or are introduced to someone, use their name a few times to create a stronger connection. This is also a surefire way to remember it throughout the conversation.
Always be yourself. Ditch the elevator pitch and use the time to make authentic and meaningful connections.
Don't monopolize someones time. If you find yourself talking throughout most of the conversation try to wrap it up, obtain their contact info so that you can follow up and move on. In the same sense don't let someone monopolize your time. Your goal is to meet and make genuine connections with as many people as possible so time management is key.
Jot down a few short notes about each new contact you meet so that you can reference those points during your follow up. Try to include some personal references as well, for example if a contact mentions they will be out of town for their birthday later that week, wishing them a happy birthday in your follow up will leave a lasting impression and it shows them that you were really listening.
When wrapping up your conversation always ask the person what method of follow up they would prefer: email, LinkedIn, phone, DM, ect. You are more likely to get a response if they are telling you how to contact them after the event.
Take action immediately. If you do agree to do something for someone be sure to take action right away.
When following up with new contacts be generous, offer to help in any way that you can. Focus on giving, not getting and you're sure to make a lasting connection.
We hope these tips can help you be the most confident and kick-ass version of yourself the next time you are faced with a networking opportunity. At GIAPENTA we believe in the power of community, especially women empowering other women. We foster our own networking sessions for our crew and will continue to expand these types of events to bring our community together.
And if you need further convincing that networking can be an absolute game-changer, keep this quote in mind from a total business icon: "Succeeding in business is all about making connections." - Richard Branson.
When it comes to building your brand, there is no substitute for continuing to develop and form new relationships, and networking is a vital part of that process. Keep your goals in mind to help you create a business or job and ultimately life that you absolutely love.
Wondering what to wear under that power suit? Snag the Florence Set and make major boss moves with killer confidence.
Florence Demi $108  Florence Bikini $38
For a bra that will take you from 9-5 and beyond try the London X Back for the ultimate in all day comfort. 
 London X Back Bra $68  Kavala Lace Thong $28