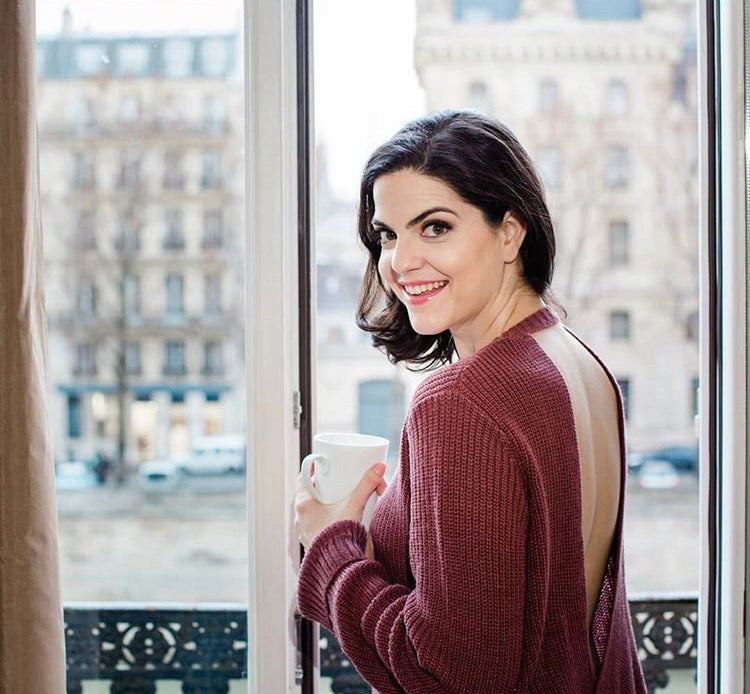 #ForeverInspired - Kimmay Caldwell, Lingerie & On-Air Expert, Owner of Hurray Media and Founder of Hurray Kimmay
With our #ForeverInspired series we're showcasing empowered women, brands and charitable organizations that continue to motivate & inspire our team and our fabulous crew.
In this segment we are so excited to feature lingerie and on-air expert Kimmay Caldwell. This ultimate girl-boss keeps busy as the owner of Hurray Media, a content marketing company for lingerie and swimwear brands and is the founder of Hurray Kimmay, a website to help people uncover their confidence, stand in their power, and learn to love themselves inside, outside, and underneath. She is also a writer and undergarment educator on TV and around the world. Basically a multitasking entrepreneur who is just killing it at every level!
And at GIAPENTA it is our mission to change the conversation around intimates as we focus on promoting female empowerment, body positivity and community.  Which is why we love that Kimmay is so aligned with our mission and is leading her own charge to help women find their happiness, joy, self worth and above all, learn to love the skin that they're in.
We caught up with this total boss-babe and GIAPENTA friend to discuss everything from working with Martha Stewart and Tim Gunn to stepping out from BTS and building out the career of her dreams.
Where are you from and where do you currently reside?
I grew up in a suburb of Rochester, NY (I joke that it's basically Canada. It's very close to the border and snowy and cold there!) and have lived in New York City since 2003.
Tell us about your kickass career:
I started in the lingerie business in 2005 as a bra fitter at a shop in NYC. It completely changed my life! What I thought was just a college job ended up altering my perception of bodies - especially my own. I was comparing my very beautiful, able, healthy, young body to the perfectly airbrushed images in magazines and it was coming up short. When I saw what real bodies look like my eyes opened. I started talking kinder to myself and then realized I could help others do the same. From that bra fitting shop I then worked for Saks Fifth Ave in their intimate apparel department, and then La Perla. In fact, I made my first TV appearance for La Perla doing a Valentine's Day lingerie segment LIVE on The Martha Stewart Show, and then on Tim Gunn's Guide to Style. Since then I also worked as a store manager and marketing director for an expert bra fitting shop and online store.
Finally in 2014 I started my own lingerie content marketing company creating social media, videos, and marketing strategies for great lingerie brands. I wanted to help brands talk to customers in a way that was more empowering and healthy. This is when my own website started growing too, and eventually I decided to step out from doing behind the scenes work and to partner with brands publicly. One way that evolved was to share images of myself in lingerie - totally unairbrushed. It was a big step and took me on a journey I'd never imagined was possible. Now I consider myself an Undergarment Educator, coach, and writer and I share and wear lingerie all over the world on my #HurrayVacay trips, educate and inspire people to use lingerie and undergarments to get to know and love their bodies and themselves, and generally say hurray inside, outside, and underneath.
Kimmay on set at The Rachael Ray Show 
Best piece of advice for budding designers and entrepreneurs?
Get support! Support is a big deal in my world - for your body and bust, and your self. You'll have to do a lot of things "alone", so make sure you surround yourself with a girl gang of women who are going through the same thing. And supportive mentors, coaches, and icons. We all need it!
What are you most passionate about?
I truly get revved up when it comes to helping people find their "hurray". It's the term I use to encompass true happiness, joy, self worth, self confidence and more. I love to start with bodies because we have an epidemic of body shame in our society. If I can help someone start there, especially with their breasts and bust, we create so much more potential for loving other parts of our bodies and selves. Our breasts and chest are right over our heart. I call them the gateway to the heart. So any shame, discomfort, or confusion about our breasts or bras completely blocks off our heart. I want more people standing tall with their hearts out and shining so that they can make heart-led decisions in the world. My goodness do we need more heart in the world right now!
Who are some of your fashion icons?
I love classic style beauties like Grace Kelly, Audrey Hepburn, and Katherine Hepburn. My style is often evolving and right now I'm hugely inspired by the graceful, no fuss style of the Parisian woman. And I am constantly inspired by strangers I see on the streets of New York City. It's like a constant runway show of inspiration!
Best part of your day?
I love waking up in the morning and making coffee and breakfast while listening to music and dancing with my cat, Sunny. She is a lovable, chubby, ginger cat with a big personality. I often share this morning routine with her on my Instagram stories. I thought maybe I was boring people with videos of us dancing and singing in the morning, but once when I stopped people kept saying, "I miss seeing Sunny and the songs in the morning!" Looks like other people love to start their day with some Hurray, too. Then of course, I put on the bra and underwear I want to wear that day which is a big hurray!
Words you live by & quotes you love:
"What if this is happening for me, not to me?"
"Show up and be nice"
"It is all working out for the highest good of everyone involved"
I have also created an entire page of free affirmations and a blog post on how to use them, because these have made such a difference in my life.
What is the biggest lesson you learned in your 20's?
Oh my gracious, so much. I think the biggest lesson that has influenced me the most is to learn to listen to my body and my intuition. I was a hustler in my 20's and used a lot of my forward motion, masculine energy to go to school full time, work full time, and do do do do. It served me because I got a lot done and made amazing progress in my career and was able to fully support myself while living in a big city. However, that constant doing was at the cost of listening to my body and my intuition. I told my body to shut up, to calm down, to keep going, to look different. It caused me to be sick, to burn out, and severe anxiety. Now I am in constant loving communication with my body and my inner self. I've really become my body's best friend. I listen to her, I ask what she needs, I support her, and that relationship has served me a million times over.
Favorite podcast you're currently obsessing over?
Believe it or not, I don't listen to podcasts! I like to read books instead or watch talks and movies/TV shows. My office is also 6 blocks from my apartment now, so my commute (when I used to read or listen to talks) is very short. Instead I set the tone for the day with a few favorite songs.
Must have fashion accessories?
I often tell people that your breasts are accessories ;) You can push them up, press them down, and even decorate them! I love letting my bra or a bodysuit be a part of my outfit, for sure. But I'm also a huge fan of hats. I have them all over my tiny apartment taking up high value wall real estate. And I have a great sunglasses collection. When it comes to earrings I wear the same pair every day. A tiny K (for Kimmay) and tiny C (for my last name, Caldwell) from Catbird. They're real gold so they don't harm my ears, and I can wear them to sleep, in the shower, and with anything.
Fave travel destination?
How can I choose just one?! I travel the world on my #HurrayVacay campaign and have been to places like Mexico, Guatemala, Puerto Rico, California, Florida, Paris, and more. And my husband and I are hiking all 60 national parks. But if I had to choose one - it's Paris. That city has my heart.
Pro tip for keeping up the hustle while also staying balanced?
I am a massive "doer". It's part of my nature. And I learned that you can only output as much as you input without draining yourself into sickness or chaos. Think of self-care as part of the job. I schedule it into my Google calendar. If it's not in the calendar, it doesn't get done. I love the typical self care things like baths, which I take at least 2-3 times a week with candles, music, salts, oils, and everything. I shut the door and allow myself to rest and relax and take in some energy so that I have some to share with the world without depleting myself. But it also includes things like rest scheduled leading up to and after big projects like TV appearance or major travel trips.
I also physically and mentally try to separate work and "me" so that I'm not only my job 24/7. For me that meant getting an office space, and creating real work hours for myself. I don't always follow that rule but it sure helps!
Favorite GIAPENTA pieces?
I think the bodysuits are to die for! The material is so soft but also the tech fabric is amazing. Not to mention, they're sleek and sassy.
How do you stay #ForeverInspired?
I surround myself with inspiring things and I keep my eyes peeled for it. If your mindset is to find the hurray and inspiration in life, you will. Whether it's a typical Monday morning at home, or you're on a trip to Paris or at an amazing art exhibit you can find the hurray. I try to see the beauty in everything. I also "plug in" daily to God and ask Him to lead the way. That way, each situation I encounter is (or at least feels) divinely inspired instead of just another thing.
We are Forever Inspired by Kimmay's incredible drive and passion, as well as how she continues to support and champion women. Keep up with this female powerhouse on the 'gram to see where she's off to next and check out hurraykimmay.com for your daily dose of encouragement, support and some major inspo.
And for more on Kimmay's must-have styles shop the ultra popular Wynwood Bodysuit Collection.
The Wynwood Crew Neck Bodysuit $118 
The Wynwood Lace Plunge Bodysuit $148
The Wynwood X Back Bodysuit $108