FOREVER INSPIRED (BY YOU)
We're in the bra business because of YOU.
Before we started designing, we reached out to thousands and thousands of brilliant women and asked one simple question: "What would make your bras better?" 
Every single GIAPENTA design is a response to one of your very wise requests. Some of them were more challenging to solve than others (we love a good challenge), but every one led us to our mission of making
smart bras for exceptional women.


You asked for...
"A bra I won't sweat in"
GIAPENTA Delivered: TempPro™
Our exclusive, patented smart fabric, TempPro™, solves temperature issues by proactively regulating your body temperature to keep you cool & comfortable. This is different from the more commonly used "moisture-wicking" because it proactively keeps you temp regulated vs responding to an overheated body.
You asked for…
"A bra with straps that won't fall off"
GIAPENTA Delivered: THE LONDON X BRA
Straps falling off has to be ranked somewhere as one of the worst feelings one can have. So we created a life hack. Our patent-pending London X Back Bra is guaranteed to keep your straps secure and in place. This innovative piece combines the support of a sports bra with the look and elegance of an everyday contour bra.
You asked for…
"Easy to adjust straps"
GIAPENTA Delivered: FRONT-ADJUSTING STRAPS

A traditional bra experience might go something like this: Puts bra on. Realizes bra straps aren't right. Contorts body in ways never thought possible attempting to fix said straps. Gives up. Removes Bra. Guesstimates strap adjustment. Tries again. Front adjusting straps solve all of that. It seems like such a no-brainer now. Just put your bra on, adjust as necessary. And GO.
You asked for…
"A strapless bra that's versatile and secure"
Three adjustable and removable straps allow you to style the Kavala Multiway an incredible 13 different ways! This fun and functional piece also makes the perfect travel companion.
You asked for…
"A full coverage bra that's actually sexy"
GIAPENTA Delivered: THE SONOMA CURVE BRA

For some reason, even in our empowered modern society, most full coverage bras are still taking "over the shoulder boulder holder" as a genuine design cue. The Sonoma Curve bra decidedly does not. Designed with a beautiful plunging neckline that pairs perfectly with low-cut tops or dresses and adorned with gorgeous lace details that still offer support in all the right places, this is the full-coverage bra you've been lusting for.
"A Game Changer in Lingerie" - Refinery29
At the heart of our collection is TempPro®, our exclusive, high-performance tech fabric specially developed for intimates that proactively regulates body temperature using Phase Change Materials. If that sounds technical, it's because it is. The fabric was initially created for use in astronauts suits to keep body temperature regulated. But we re-designed (and patented) it specifically for us in intimates.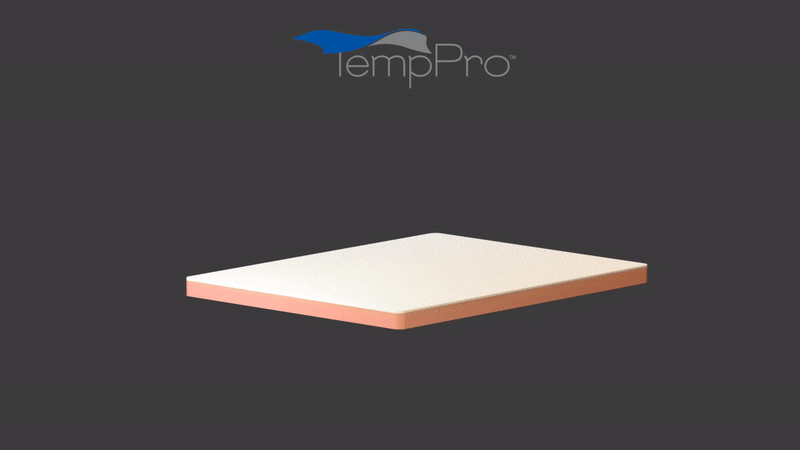 In simple terms, as you get warm, the fabric pulls heat away from your body to cool you down. As you start to get cold, it releases your body heat back to you right when you need it, keeping your temperature perfectly balanced, always. This differs from moister-wicking in that moisture wicking is REACTIVE, meaning if you're already hot or sweating, that triggers the fabric going to work. TempPro®, like you, is always one step ahead.