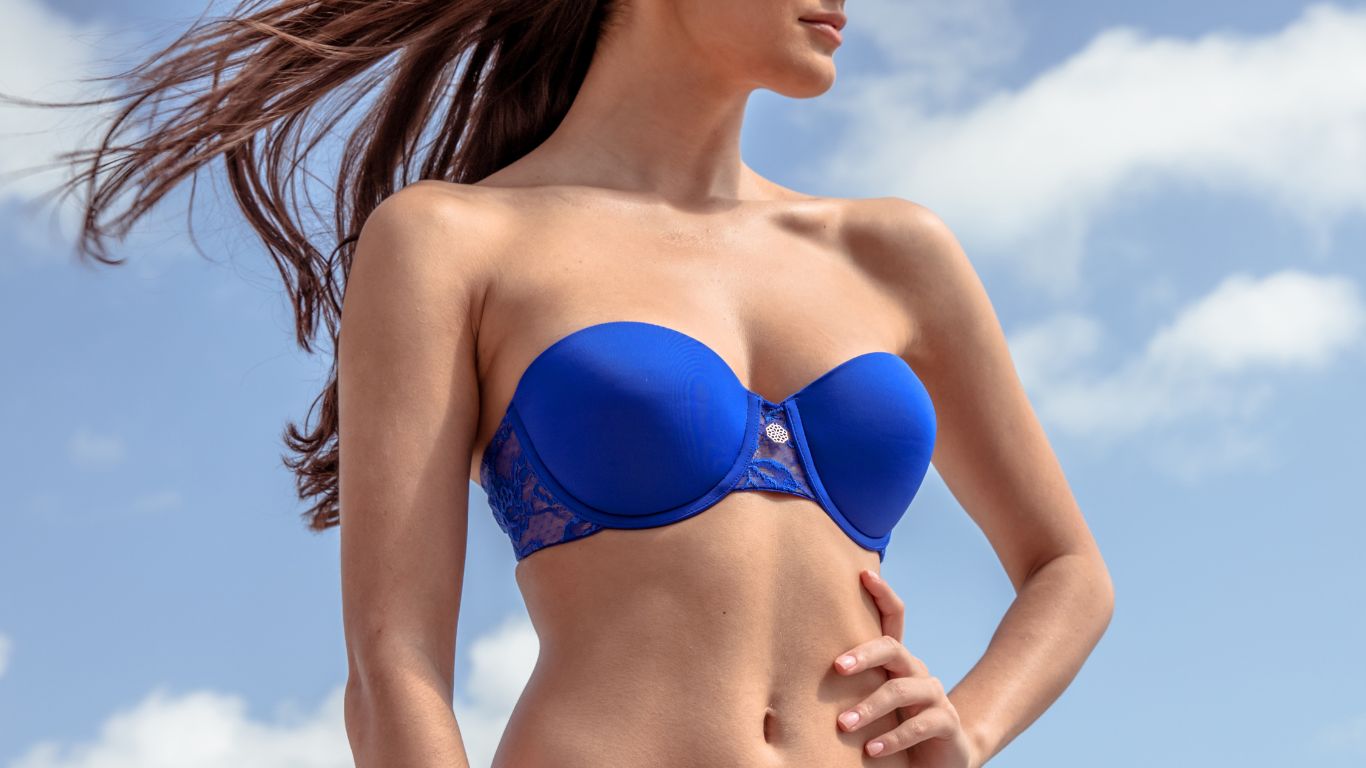 How Do You Find the Best Strapless Bra?
Is there ever a better moment in a woman's life than finding the perfect fitting strapless bra? Big statement, we know, but picture this for a moment: It's a scorching, sticky, Saturday afternoon, you have a huge night ahead of you – drinks, dinner, dancing with your five favorite humans. You know exactly what you want to wear, too. That cute, off the shoulder number you picked up on sale back in June and still haven't worn. 
You love the outfit. The thing is, you don't have a good bra to pair with it. You know you need something strapless, maybe even multiway but nothing in your underwear drawer looks right. And so, you hit the shops. You brave the unforgiving lighting, the critical mirrors, those dreaded little plastic hangers that leave everything in a tangled mess. You hold your breath as you try on style after style, only to find a handful that 'sort of fit' but still dig in, slip down and really don't provide all that much support. 
It's an all-too common problem and it's prompted millions of women worldwide to ask themselves: Do comfortable and supportive strapless bras even exist?
Now you're one of them. 
You phone your sister in a panic, and she says a few life changing words (ok, that's a bit over the top, but stay with us), "Yes, comfy bras exist! I have the best strapless bra. You can borrow it."
And guess what? She was right. That strapless bra fit like a glove. No gaping cups, no sagging bands. It even regulated your temperature while you boogied away on the dance floor. 
But what if your sister had gone away for the weekend? What then? 
If the thought of spending another Saturday afternoon moving from underwear store to underwear  store in vein attempt to find the right bra sends you into a total tailspin, we get it. After all, finding a good bra isn't as simple as 'it fits in the change room'. It needs to fit in with your whole life (and wardrobe), too. 
Which is why we're here. To help you navigate the messy world of strapless bra shopping, so you can find one that lifts you and your mood. Because, honestly? A bad bra has the power to ruin your whole damn day. 
And we're not standing for that anymore. 
So how do you go about finding a strapless bra that actually does its job? 
It really does feel like a cruel joke that about 90% of the cutest outfits on NET-A-PORTER depend on a strapless bra to look, well, cute. Let's face it, a bra entirely dependent on a couple of clasps to hold itself up is a scary thought for most women.
You've probably wondered if a belt around your waist would provide better support – that's where most strapless bras end up anyway, right? Especially if you're on the bustier side
But here's the thing – a strapless can actually be your best support bra. Not to mention one of your most comfortable bras too. No, we're not joking! 
And as Autumn event invites start to roll in, you most definitely need a comfy strapless bra you can depend on. 
They really are the only way to go for all your trans-seasonal ensembles – you just need to know exactly what to look out for before you invest. Because the best strapless bra will stay in place to support you all day and night long, no matter what you're wearing. No style sacrifice required! 
Ideally they'll be made with buttery soft memory foam too, to mold to your curves and lift you perfectly. We also recommend starting with your usual bra size. It might feel a bit snug when you first put it on but this is intentional – strapless bras are designed to be tighter fit (so they stay on sans straps). 
Need some more insider tips? Keep reading. 
When searching for the best strapless bra, seek out these key features 
Thankfully good bras are out there. Yes, even the strapless kind. Here are 7 things you should keep top of mind before you purchase your next one
Look for a non-slip fit 
A huge concern most women have when slipping into a strapless bra is that it won't stay up. And no wonder – i's a bra at the mercy of gravity after all! But the best bra brands will sell a strapless that promises not to slip down or slide around, like the Kavala Multiway . Just be sure you read any reviews and testimonials from real customers so you can be confident that it's not some marketing gimmick. Oh, and maybe skip the moisturizer before you put your strapless on. 
Pay attention to the band 
A strapless can actually be your best bra for lift and side support. It all comes back to the band. The majority of the support come from the band for most bras actually – yep even that best t-shirt bra of yours that you've worn on repeat for three years straight now! So if  the band is thick and sturdy, you can rest easy knowing that it will most likely give you a great amount of support. 
Find the right size
Have you been wearing the same bra size for years? Maybe even since high school? It might be time to get fitted again. You'd be surprised how many women are roaming around in a 38C when they're actually a 36D. When you wear a bra that's too small or too big, problems will ensure. That rule applies for the best sports bras, maternity bras, push up bras, nursing bras and full figure bras as well – not just the strapless kind. Finding a bra that fits well and feels good is a mammoth effort and there's no shame in seeking help from a professional bra fitter to find the right size for you. Actually it's very much encouraged! You can also find your perfect fit online. 
Strapless bras for larger busts do exist 
Every woman – no matter what shape or size she is – should have at least one strapless bra that she can depend on for lift and support. But many women think that they're simply reserved for those with small breasts and we're here to tell you it's not true! There are many strapless bras out there, including the Kavala Multiway Strapless, that will support your D bust. Plus it's simply so comfy you won't want to take it off!  
A strapless can work for all your tricky necklines and cuts   
It's party season, so you're no doubt planning festive outfit after outfit. Brunches, afternoon drinks, evenings at your favourite bar – the social activities are endless. And so too are your fashion choices. Racerback singlets, cute sundresses, plunging necklines, racy halter necks, glamorous evening gowns? We could go on. While all these choices are super cute (and will look amazing on you!), they can also all be seriously ruined by the wrong bra. Fortunately a multi-way strapless with adjustable straps can transform to suit all these styles. Boom! 
The best strapless bra will regulate your temperature 
Yes, you read that correctly. In fact, we developed our exclusive, patented smart fabric, TempPro™  after receiving hundreds of requests from women around the country to create a cooling bra that would keep them dry and comfortable. TempPro™ is a little different to other 'moisture-wicking' fabrics – it actually regulates your temperature rather than simply responding to your overheated body. And yes, our strapless bras are made with it.
You need to find the right one for you 
It should go without saying that finding the right strapless bra for you will take a little time. And you will most likely need to try on several before you find one that's just right. We recommend trying on various brands and styles so that you can get a feel for what's on the market and what suits your individual body type. If you're a little hesitant, seek out some assistance from the floor staff or online support team. 
Once you've found your perfect strapless, what should you pair it with? 
There's no denying that a strapless bra is the best bra solution for every kind of hard to wear dress or neckline. Spaghetti straps? Off the shoulder? Plunging V? If you're a big fan of complicated (but seriously on trend) outfits, a strapless bra is your go-to. 
Once you've found your perfect fit, here are just some of the hottest styles you can wear it under.  
Off-shoulder 
It's hard to go past the classic off-shoulder dress during any season. But this style reigns supreme during Summer and Autumn, and without a strapless bra to carry you though you'll just end up feeling more 'meh' than 'trendsetter'. 
One-shoulder 
If you hit the bar scene (or even just the sidewalk) at least once this past Summer, you'll surely have noticed that one shoulder dresses and totally are having a moment. A big one. The one shoulder look is a bit like the off-shoulder's edgier older sister – and a supportive strapless bra really is the only way to do this style justice. 
Halter neck 
Halters were big in the '90s and the '90s are big in the 2020s. Suffice to say if you're thinking of adding a halter neck top or dress to your wardrobe this year, a strapless bra is a surefire to way to nail this look without a style misstep. 
V-neck tee 
A great v-neck tee is the glue holding many, many, many outfits together – and while you might think that a t-shirt bra is the best undergarment to wear with your favourite,  take a moment to consider a strapless instead. No errant straps popping out around your shoulders needing readjustment every 45 seconds means you can breeze through the day. No brainer! 
A sheer blouse
This elegant staple is perfect for warmer evenings but a standard bra can distract from your overall look and seriously mess with your style. Don't let it! Throw on your strapless – you'll look effortless, fabulous and super chic. 
One strapless bra can completely transform your underwear drawer 
We promise, comfortable strapless bras that you don't have to reposition every 5 minutes really do exist. And we're not just saying that because we manufacture them either. 
But if you're still under the impression that wearing a strapless bra involves a whole lot of pinching, falling, gaping and maneuvering, you probably just haven't found the right one for your body yet.  
Enter the Kavala Multiway Strapless. The ultimate bra for all of your shoulder-baring outfits. It's functional, flexible and made with our premium TempPro™ fabric to keep you dry and cool all day long. But the best bit? It 's crazy comfortable and comes with three detachable and adjustable straps that can be worn however you like – diagonally, halter, crossed or standard (plus another nine ways to be precise!). 
The cups are  smooth and seamless and the band is thick and sturdy. Plus it's designed to look invisible beneath even your thinnest items of clothing. What's more it comes with a guaranteed non-slip fit and always provides maximum support (up to a size 38D). 
It's actually heaven – if we do say so ourselves. Add to cart, friends! 
Oh and the name of that strapless bra you snagged of your sister? You better believe it was the Kavala Multiway Strapless. Now you definitely know you need one (or three) to call your own. Shop every shade here