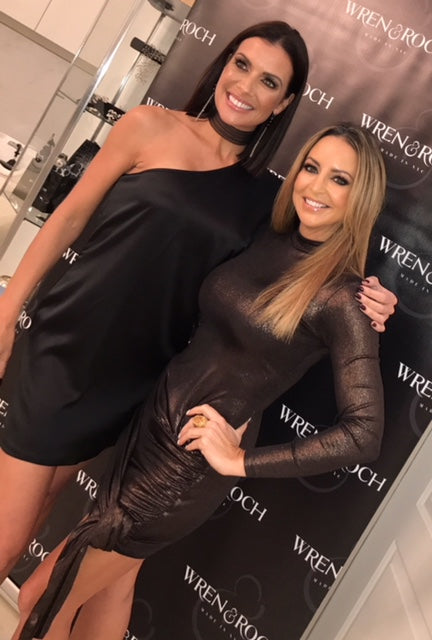 #ForeverInspired - Karen & Laura, Founders of Wren & Roch
With our #ForeverInspired series we're showcasing fellow bossbabes, wcw's, brands and charitable organizations that continue to motivate & inspire our team and our fabulous crew.
First up is Karen Hansen & Laura Rachlin, the founders of Wren & Roch. Their handbag and accessories brand advocates for and empowers survivors of domestic violence, rape and sexual assault, and educates for the prevention of abuse. We chatted with these two beauties about their journey and what went into creating their awe-inspiring brand.
Where do you currently reside?
Boca Raton, Florida
How did Wren & Roch come to be? 
We have always loved fashion and handbags and wanted to explore that avenue of design, since we'd had success with both interior and product design, but we also wanted to give back to our community.  One day, it was like an awakening.  We thought "what if we could do what we love and give back at the same time?" and Wren & Roch was born.  We decided to use our voices as survivors of rape and domestic violence to stand up for others, through fashion… to create a true fashion statement by raising awareness about these important issues.  That's why our tag line is "Carry your Courage".  Our goal is to create a call to action- to advocate for victims and survivors of sexual assault by bringing this subject to light.  We donate a portion of our proceeds to organizations aligned with our mission and we work daily to educate and empower our customers to stand with us and be part of this movement to end sexual assault.
What has the process of creating your brand been like? 
It has been very rewarding and challenging.  We are not just a handbag brand.  We are a social impact brand so there is a juggling act between the business portion and the emotional challenges that come along with hearing so many survivors' stories. This is where we truly feel our brand is different from others. Our hope is that we will encourage other designers to take a stand for what is important to them and create fashion that is not only beautiful but truly meaningful.  We have put every dollar we have and our entire hearts into this company, so as single mothers of five kids (collectively), failure is not an option! 
How did you meet / what brought you together? 
We have been business owners and best friends for almost 20 years.  We met a few years after college graduation and have been inseparable ever since.
Best part of your day?
Lunch, without a doubt.  We're just like little kids at recess- only we're still talking about work and how to save the world through education!
Fav piece in your collection and why? 
Probably Street Smart because it gets people excited.  The colors and designs are fun and badass so clients gravitate to it.
Pro tip for keeping up the hustle while also staying balanced? 
Work out and eat dessert daily, drink wine at least weekly and if you can- work with your best friend.
What's the one challenge you didn't see coming? 
From the business side, originally it was finding a manufacturer, now it is trying to figure out the best way to reach new clients.  From the social impact side, it's hearing all the stories from survivors and knowing they are counting on us to be their voice until they too are ready to speak.
Go to #OOTD? 
Head to toe black, of course.
Fav travel destination? 
Karen- Paris (cliché but true), Laura- Bora Bora (speaking in future tense!)
How do you stay #ForeverInspired? 
Our love of fashion, color and people is what keeps us going… we still have so much to do we can't even imagine slowing down.
Karen & Laura pictured above during Wren & Roch's first trip to the United Nations, with their Best Friend bags in hand. 
A huge thank you goes out to these ladies for the incredible work that they do, and for not only inspiring the entire GIAPENTA team, but survivors and women all around the world.
To learn more, donate, or shop their beautiful collection visit wrenandroch.com.